No matter what you sell, you'll need revenue to sustain, run and grow your business. In B2B it is more challenging because you have a very limited number of buyers surrounded by wooing competitors.
As an owner or accountable executive of a B2B company, it is your responsibility to build a sustainable revenue stream. If you are not able to crack your code for that, this post is just for you.
This post is beyond not targeting the right audience and a step-by-step guide for sales funnel etc.
If you are in a hurry and want to know in short –
Why Your B2B Sales Process Isn't Working
At Openthrive, we have worked with hundreds of B2B companies, and we rarely found the product acceptance issue, in most cases it is a marketing problem.
In most cases, buyers buy something when they are in need. But when you need customers to buy from you, it means either you are not spending on marketing or people don't need your product.
Table of Contents
There is no shortcut in B2B business. Tricks and tips work once, twice, or maybe a third time, but they will never build a system to thrive your business. Here are 10 reasons why your B2B sales are always down.
1. Prioritizing Sales over Marketing
Out of frustration, most B2B companies eventually become sales-driven businesses. Of course, it works sometimes, but eventually, it is saturated very fast. Then they start looking here and there and end up buying expensive ads & bulk lists of contact. Sometimes they decrease prices to create another problem and get customers at any cost.
But B2B marketing-driven sales not only see faster & higher conversions but also make the system well-oiled to retain customers forever loyal.
In the beginning, it is Ok to go sales driven to get your first few customers. But if you are looking for long-term revenue growth at scale, you have to position marketing before and after the sales.
Solution:
If your sales are unable to grow your business revenue, you are facing a marketing problem. Start using impactful B2B marketing strategies to increase sales conversion.
2. Not Spending On Marketing Correctly
Marketing is not about having a website and online presence. It is beyond SEO, mass email, and fancy social media marketing. Most business leaders and even CMOs get marketing wrong. So, they spend on writing content that competitors are talking about, start buying ads, and so on just to sound good.
Even businesses that spend on marketing a lot, are skipping a proper strategy to direct implementation of line items out there.
However, true B2B marketing is all about transforming your products and services into solutions, and the solutions into powerful stories. Then anything & everything follows along.
Now website will not be just another website, email marketing will become highly targeted, ads will perform better, SEO will bring more relevant traffic, etc. It makes your B2B marketing a powerful engine to drive sales at scale.
Solution:
Start with a marketing strategy with a dynamic GTM engine that helps you focus on things that matter & spend with maximum ROI.
3. Bartering Product With Money
Most often businesses can't switch to the customer side and remain as much competitive as they can. This is very dangerous for revenue growth at scale. It keeps any business in a loop of completion on price without adding any value.
This way you are selling to a price-sensitive customer segment who can switch sides anytime. So, you lose a 100% chance to address high-value clients who are ready to buy your products at any price.
Solution:
Position your product to the right market and high-value client instead of selling to the wrong audience. Better market research will help you transform your product into value.
4. Having a Sales Team Not A System
Sales is not an activity but a system that fuels every moving part of your business. Without sales, your business is nothing more than a useless entity. But the next big challenge is how B2B sales work!
It works as a system tightly integrated with marketing. If you are selling by doing some cool stuff, sending great emails, and personalized content, put them together and build a sales system. Otherwise, even if you will fix every problem in this article, sales are not going to work for you.
That's why this is the most important point of this entire article. If you will have a system, it can be used by anyone & any size of the team.
Solution:
Build a B2B sales system before implementing it on any CRM or Sales Software. Sales enablement will help you a lot but again do it on paper first.
5. Using B2C Website For B2B
B2B sales are completely different from B2C. In B2B you know who your customers are, very often by their name and address. While is B2C you don't know who is going to buy from you except a type of audience.
Moreover, in B2B people buy on trust, while in B2C people can buy merely on emotional touch or just on convincing push.
So, a B2B website is different. Think about a fancy mall or supermarket and a business office beside it. You will see the difference.
B2B websites are clean, to the point, and most often filled with rich content to help prospects make decisions faster at any stage of their buying journey.
Solution:
Transform your website from B2C to a B2B website. At Openthrive we help businesses build a highly scalable website on headless CMS.
6. Limited Online Presence
Although this will be unfair to say you are not online, chances are high that you have very limited reach. This means you have access to very limited tiny and tight corners of the market. If so, maybe this is another high reason your B2B sales performance is touching its bottom every next day.
A narrow presence leads to many problems, fewer inbound leads, not appealing identity, and above that very less chance of referral clients.
A wider online presence opens new doors of opportunities every day. It removes friction in sales conversations because prospects know you better before jumping into the call.
Solution:
Utilize an omnichannel marketing strategy to distribute your content and offers on every possible channel and platform. Implement from inbound marketing to SEO, Demand Generation, ABM, etc alongside a robust sales system.
7. Reluctant To New Strategy & Technology
New technology changes everything including sales & sales strategy very fast. Things that were working last year may not work now and in the future. If you are not changing, it will keep impacting sales performance further.
It's true new technology and sales strategy require extra resources and training, but that should not be a problem as it will boost your sales at scale.
If you are still waiting for the right time or in love with your existing system, you have to change to improve your B2B sales performance.
Solution:
Become an early adopter to dominate in your industry. Never touch your existing sales flows until your new strategy and technology are ready to replace. Start with the pilot plan before moving to the full scale. Hire consulting companies like Mckinsey or Openthrive to get this done for you.
8. Marketing & Sales Aren't Aligned
Marketing & Sales alignment can increase revenue by 34% that's a lot, right? This empowers your sales team to engage with customers who know what they are going to listen to. In this way marketing answers most of the questions before and during the sales conversation.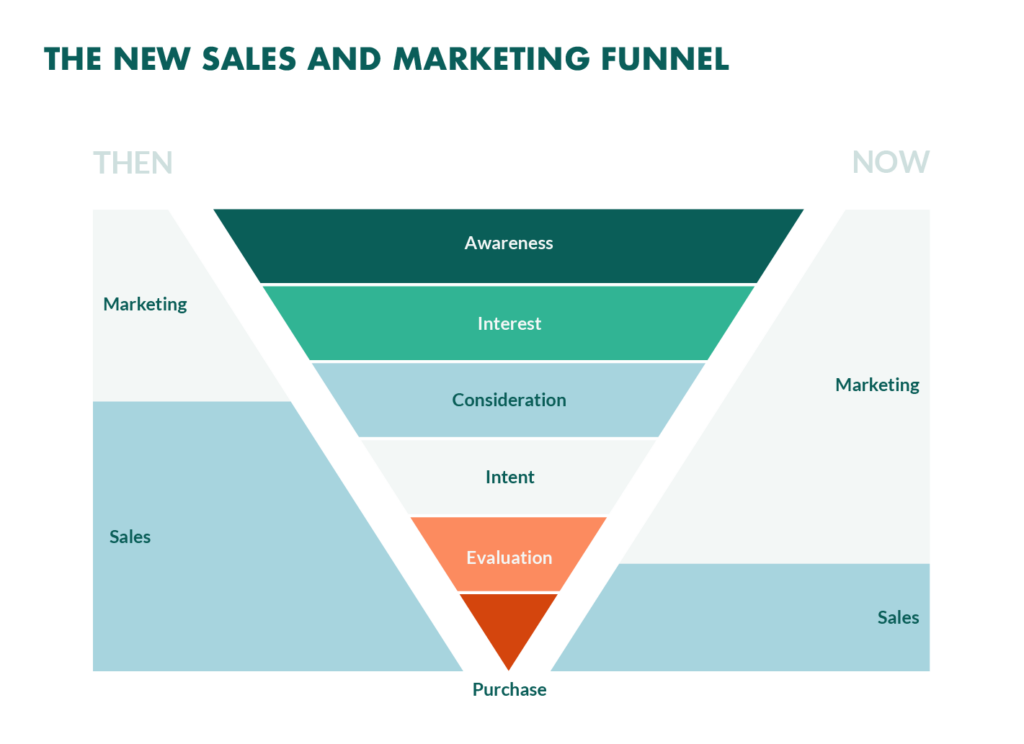 So, ultimately alignment reduces the crazy long sales cycle into a simple conversation, please send the invoice. If your marketing & sales are not aligned, it is pushing your B2B sales down.
There is a lot to cover for marketing and sales alignment, but in short, it boosts sales productivity for more results.
Solution:
Go beyond integrating marketing software with CRM and align them at the strategy level. Bring marketing & sales teams together to achieve the goal faster.
9. Generating Leads Instead Of Demand
In B2B your target audience is very limited and very often smaller than a normal B2C audience. So there are very easy ways to know who they are by their name and address. So technically there is no point to waste time and resources on lead generation, it's just a click away.
Chances are you have them in your CRM, right?
Now the goal is how to push them into your sales pipeline. If you are still focusing on the top of the funnel to generate B2B leads, please stop that now. This is the reason your B2B sales are left behind.
Start creating content for the middle and top of the funnel. This way even a simple email can push them into a real-life sales conversation, hence a new deal.
Solution:
Create content to generate demand. In B2B lead generation is important but not the deal maker.
10. Not Measuring B2B Sales Results
Sales without measuring performance are driving blindly. If you are measuring sales KPIs and results, you don't need to read such articles. Go and find out the bottleneck and fix that.
Although I hate tools and tricks, however, in this case, some software like HubSpot, Salesloft, and Salesforce will help you measure the overall sales performance.
Solution:
Measure how your sales are functioning and take data-driven decisions to fix any issue.
Conclusion:
Sales are always a very important function, even if you are making millions or billions in revenue. And in the case of B2B sales, it is even more important to take it seriously because you always have a limited number of buyers to engage. So, the probability of winning deals is usually very slow and sometimes very low.
To overcome or avoid a stuck situation you need robust B2B marketing to drive B2B sales at scale.